---


Redwood City Seed Company - Catalog Supplement 2020 - Vegetable seed collections
Heirloom Vegetable seed Master Collection of Open-pollinated and non-GMO seeds --
Plus, new Cucumbers, Melons, Peppers and two special Pepper seed collections.
---

Our Catalog Supplement lists seeds and Collections not currently in our printed catalog.
Box 361, Redwood City, California 94064 USA - Text and images Copyright © 2020 by Craig Dremann

CALL 650-325-7333 - Use DISCOVER, MASTERCARD or VISA.
Or, FAX your order to (650) 325-4056 or mail in with check or money order.

---

USA customers: "Master Seed collection" and the Pepper Collections are shipped free to the USA, Mexico and Canada. If you order individual packets of seeds without a collection, please add $5 for the first packet, and 10 cents for each additional seed packet for postage. Or, if you order one or more collection, only add 10 cents for each a-la-carte packet for shipping. Calif. customers, no sales tax.

---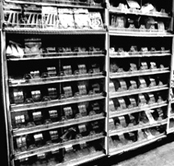 >>>>>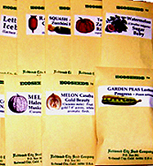 Left: Empty seed racks at stores. Right: Our vegetable seed packets still available, ready to ship to you.
-- MASTER "REDWOOD CITY SEED CATALOG" COLLECTION - Notice that store vegetable seed packets, were quickly gone and the racks empty? Photo above from the local Home Depot right now.
Seeds are still AVAILABLE from us, and offer a collection of one packet of everything we carry. Most packets contain 100 seeds, and will be put into a ziplock bag. That way, you plant what you need each time, then put the rest back in the ziplock bag in the refrigerator. In refrigerator, seeds will be good for another 2-4 years.
This collection contains 128 packets of seeds: Amaranth, 6 kinds Beans, Broccoli, Carrots, Sweet Corn, Cancha Corn, 3 Hopi Flour Corns, 4 colors Popcorn, 2 Cucumbers, Huauzonli, Kale, Lettuce, 6 Melons, Mustard greens, Okra, Parsley, 3 Peas, 4 Sweet Peppers, 61 Hot Peppers including the newest World's Hottest the Chocolate Champion, 2 Pumpkins, Radish, 6 Squashes, 2 Tomatoes, 8 Watermelons, Basil, Coriander, California Poppy, Gourd Luffa, Grain Teff, Morning Glory, Sage White, and 2 Sunflowers. Substitutes will be made if we run out of any items. PRICE $260.

---
-- CUCUMBER National Pickling (C. sativus). (50-60 days) Developed by the National Pickle Packers Association. Vines produce short, thick and blunt end cucumbers, heavy yields, excellent for pickles, picked when young. PACKET (50 seeds) $2
-- MELON Iroquois Muskmelon (C. melo) (75-100 days) Fruit 6-7 inches in diameter, 5-7 lbs. each with thick deep orange flesh, developed in 1944 at Cornell University, especially good for planting in the Midwest and northeast. PKT. (50 seeds) $2
-- MELON Planter's Jumbo Muskmelon (C. melo) ( 85-90 days) Fruit 6-7 inches across, 4-4.5 lbs. vigorous vines, takes droughts or wet weather equally, developed in 1954 with deep-orange flesh. PKT. (50 seeds) $2
-- MELON Rocky Ford Green Muskmelon (C. melo) (85-95 days) Very old strain developed in 1881, melons 5-5.5 inches across, 2-3 lbs. prolific, unusual green flesh. Skin is light yellow when fully ripe. PKT. (50 seeds) $2
-- MELON Sierra Gold Muskmelon (C. melo) Fruit 6-6.5 inches across, 2.5-3.5 lbs. salmon-orange flesh, developed in 1956. PKT. (50 seeds) $2




Pepper Chimayo.................Red Savina Habanero

-- PEPPER Chimayo (C. annuum) Very rare and the fastest maturing pepper on the planet, short plants 2-2.5 feet tall, will form fruit 30-40 days after planting seeds, originally from the high elevation village of Chimayo, NM. Mildly hot fruit, and useful for making future crosses, to get other pepper varieties to be able to produce fruit quicker. (HS: 100f) PKT. (100 seeds) $5.00
-- PEPPER Red Savina Habanero (C. chinense) Frank Garcia found a red habanero growing in a field of orange habaneros, and tested the pepper's heat, and was awarded the Guinness World Record® "Hottest Chilli" from 1994 to 2006. Plants 2-3 feet tall, fruit dark red 2" long and 1.5" across. NOTE: Seeds are treated with Thiram fungicide, so wear gloves when planting. (HS NMSU = 500,000 Scovilles or 41,000 d ). PKT. (100 seeds) $1
---

-- PEPPER SEED COLLECTION - 14 "GOING AWAY". This is a special collection of 14 different pepper seed packets , that we probably will not have available in the 2021 catalog. The reason is that the USDA-APHIS just established very strict pepper and tomato seed importation rules. Comes in a plastic ziplock bag so you can store the seeds in your refrigerator before and after sowing, to keep the fresh longer that way. If you want to try any of these varieties, get them while they are "HOT" and before they go away! COLLECTION $35

-- SPECIAL PEPPER COLLECTION - 20 different 2020 seed packets. Each summer, we put together collections of 20 different hot pepper seeds from the current year's packets. Ordering 3-4 of these collections, you can sample most of our 61 peppers. Most packets contain 100 seeds. COLLECTION $35 - Shipping free

---
Updated August 20, 2020 -- Complete seed list here.